Saturday 24th October 2020
Marathon - Half Marathon
A flat Marathon & Half Marathon in Mid Devon.
The route is 100% on the Grand Western Canal Path.
Starting from Sampford Peverell
Saturday 24th October from 9am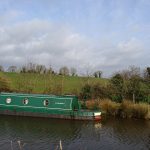 A flat Marathon or Half Marathon in Devon? Impossible you say!
Well here it is the Grand Canal Canter along the picturesque Grand Western Canal, your choice of Marathon or Half Marathon.
The route starts at Sampford Peverell and heads along the canal paths for 6.6 miles to Tiverton, here is a water stop and the turn around point (there is also a water stop half way between Sampford Peverell and Tiverton), after the turn around you head back to Sampford Peverell and for the Half Marathon the finish line, for the Marathon runners you will find a water stop here and then you repeat the course a second time.
Bespoke "Grand Canal Canter" medal for all finishers.
There is less than 90ft of ascent in the Half Marathon and less than 180ft of ascent in the Marathon, making it a flat course along hard packed gravel canal paths.
Half Marathon has a 4 hour cut off and Marathon a 6 hour cut off.
We are very lucky to be allowed to hold an event on the canal side, the event start will be in "waves" to reduce any congestion and is limited to a maximum of 150 runners in total.
Prices
Half Marathon Affiliated £25
Half Marathon Unaffiliated £27
Marathon Affiliated £30
Marathon Unaffiliated £32
Runners must be over 18
Entries Opening when the current situation becomes clearer.