12TH MARCH 2023
29th October 2023
Each year the Grand Canal Canter takes place twice, with a spring and an autumn event!
A flat Marathon, Half Marathon and 50k in Mid Devon. (50k only in March)
The routes are flat and 100% on the Grand Western Canal Path starting at Tiverton.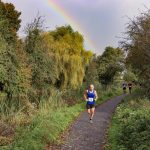 A flat 50k, Marathon or Half Marathon in Devon? Impossible you say!
The Grand Canal Canter routes heads along the picturesque Grand Western Canal, your choice of Marathon, Half Marathon or 50k! Will you take part in March or October or Both? (50k is only in March)
The route starts at Tiverton Canal Basin and heads along the canal paths for 6.6 miles to Sampford Peverell, here is the turn around point, where you head back to Tiverton and for the Half Marathon the finish line, for the Marathon runners you repeat the course a second time, 50k runners on their first lap will do an extra 5 mile loop at the start.
There is approx 90ft of ascent in the Half Marathon, approx 180ft of ascent in the Marathon and approx 340ft in the 50k, making it a flat fast course along hard packed gravel canal paths.

Bespoke "Grand Canal Canter" medal for all finishers. Different medal each event.
To spread the runners out along the route and minimise the number of runners on the route at any one time, we are holding two Half Marathon sessions on the day, the first has a 2hr 40 minute cut off time, the second has a 3hr 15 minute cut off time, the results of the two half marathons will be combined for the final results, the provisional timetable of events on the day is:
Half Marathon 1 –  8am Start (2hr 40 mins cut off) 
Marathon & 50k – 8.30am start (7hr cut off)
Half Marathon 2–  10.45am start (3hr 30mins cut off) 
CUPLESS EVENT!
The Grand Canal Canter is a Cupless event, all runners must bring and carry either a water bottle, cup or running backpack with them. There are water containers to top up your water or fill your cup approx every 3 miles, but there are no cups provided.
Prices
Half Marathon Affiliated £28
Half Marathon Unaffiliated £30
Marathon Affiliated £33
Marathon Unaffiliated £35
50k Ultra Affiliated £38
50k Ultra Unaffiliated £40
Runners must be over 18 or 21 for the 50k
For the Half Marathon remember there are two to choose from on the entry system, the 8am one which has the 2hr 30 min cut off and the 10.45am one which has a 3hr 30 min cut off. 
MAKE SURE TO CLICK THE CORRECT BUTTON BELOW FOR THE RIGHT EVENT!
Upon signup you may be offered Refund Protect Insurance, this is an option added by Race Nation (the entry system proivder), it is nothing to do with Winding Paths Ltd, we do not receive any money or have anything to do with this insurance option.